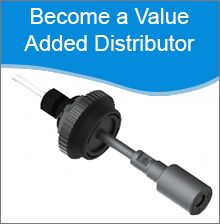 Distributors
Find A Value Added Distributor (VADS)
Our Value Added Distributors offer the following advantages and services:
Our line has the broadest Chemical Compatibility in the business. No matter what the chemical environment, VADs can pair you with the ERECTA SWITCH construction material best suited for your application.
Custom ERECTA SWITCH assembly services and aftermarket additions.
Value Added Distributors are the instrument company in the field. They will work within the ERECTA SWITCH building block system to design a solution for your application, produce an immediate sample, and ship fast. Plus VADs can add aftermarket connectors, perform wiring splices and more.
VADs offer expert technical, administrative and regulatory support.
Preferred Value Added Distributors
Sort:
All
National
International
Standard Distributors
Sort:
All
National
International
| | | | | |
| --- | --- | --- | --- | --- |
| Company Name | City | Country | Phone | |
| ACAL BFI CENTRAL PROCUREMENT UK LTD | ASSAR GABRIELSSON STRASSE 1 | GERMANY | | |
| RYAN HERCO PRODUCTS | Tampa, FL | USA | | |
| RYAN HERCO PRODUCTS | Santa Ana, CA | USA | | |
| F.W. WEBB COMPANY | Waterbury, CT | USA | | |
| MCKENZIE SUPPLY COMPANY | Laurinburg, NC | USA | | |
| RYAN HERCO PRODUCTS | KENT, WA | USA | | |
| RYAN HERCO PRODUCTS | Brooklyn Heights, OH | USA | | |
| RYAN HERCO PRODUCTS | Somerville, NJ | USA | | |
| RYAN HERCO PRODUCTS | Colorado Springs, CO | USA | | |
| RYAN HERCO PRODUCTS | Miami, FL | USA | | |
| RYAN HERCO PRODUCTS | Tualatin, OR | USA | | |
| DIVERSIFIED MATERIALS INC | Corpus Christi, TX | USA | | |
| RYAN HERCO PRODUCTS | Atlanta, GA | USA | | |
| RYAN HERCO PRODUCTS | Austin, TX | USA | | |
| RYAN HERCO PRODUCTS | Pottstown, PA | USA | | |
| RYAN HERCO PRODUCTS | Kent, WA | USA | | |
| CALIFORNIA INDUSTRIAL SUPPLY | San Diego, CA | USA | | |
| TCD PARTS INC. | Edgerton, MO | USA | | |
| RYAN HERCO PRODUCTS | San Diego, CA | USA | | |
| RYAN HERCO PRODUCTS | Sandy, UT | USA | | |
| Agility EMS dba GOPHER ELECTRONICS CO. | St. Paul, MN | USA | | |
| WATER PURIFICATION SUPPLIES | Pembroke Park, FL | USA | | |
| RYAN HERCO PRODUCTS | Richmond, VA | USA | | |
| RYAN HERCO PRODUCTS | Burbank, CA | USA | | |
| BURT PROCESS EQUIPMENT | Hamden, CT | USA | | |
| LETZGO PRODUCTS INC | Gilbert, AZ | USA | | |
| RYAN HERCO PRODUCTS | Wilsonville, OR | USA | | |
| RYAN HERCO PRODUCTS | Houston, TX | USA | | |
| HEMOMATIK AB | Stockholm | Sweden | | |
| RYAN HERCO PRODUCTS | Naperville, IL | USA | | |
| ROT QUIMICA C/O RAGO GRP INC | Laredo, TX | USA | | |
| RYAN HERCO PRODUCTS | Charlotte, NC | | | |
| RYAN HERCO PRODUCTS | San Jose, CA | USA | | |
| SEELYE PLASTICS INC | Bloomington, MN | USA | | |
| RYAN HERCO PRODUCTS | Tempe, AZ | USA | | |