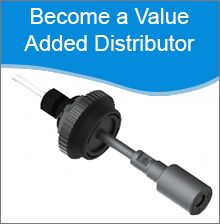 Flow Sensors
Series 5 flow sensors can sense small flows in liquid or gas for less than the price of a movie ticket.  Series 5 products are a family of small flow switches and flow indicators based on a common parts set and principle of operation. Pressure differential across a movable magnetic poppet inside the flow sensor operates a reed switch and/or provides a visible flow indicator through a transparent window.
5-20, 5-21 and 5-21H flow switches, are the key elements of the Series 5 ERECTA SWITCH product group. When combined with ERECTA SWITCH accessory components, flow sensor sets are formed providing additional features and extending application possibilities including low flow sensors, and flow indicators, air flow sensors and mass airflow sensors.
Although Series 5 flow switches are designed for small low flow applications (under 3 GPM), they can be used in bypass lines so flow can be sampled by the flow sensor without impeding flow efficiency. As an "in the flow stream" flow sensor, 5's are only limited by the I.D. of their internal port diameter.
Flow switches are preset, at time of manufacture, to close contact upon increasing flow rate. Low flow sensor set points ranging from 0.1 GPM to 1.00 GPM are in stock so prompt shipment is not a problem. And you can choose the construction material best suited to your needs. Series 5 sets are offered in your choice of Polypropylene, Acetal, and Kynar PVDF plastics. Except for the 3/8 NPT boss 5-21H flow sensor, connections to the flow medium are made through accessory adapter fittings. Several pipe thread and hose sizes can be accommodated.
Monitoring coolant flow and activating equipment at flow turn-on are excellent applications for these products. "Check 'em out". 5s are the affordable flow sensors.