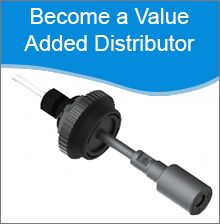 Liquid Level Sensors
New Liquid Level Sensor Sets
Simplify Ordering
Take the "Custom" out of your custom liquid level sensor application
Level sensor sets are available in one packs
All sets are in stock and ready to ship
New ERECTA SWITCH liquid level sensor sets are logical level sensor configurations that make the most common liquid level sensor applications. Liquid level switch application issues like tank turbulence, custom extended stem level switch lengths, water level sensors, multi level sensors, and wiring enclosure are no longer custom application issues.
These in stock ready to ship liquid level switch solutions, simplify the ordering process by consolidating constituent part numbers under one nomenclature and you can buy them in one packs.
Where else can you get a single or multi level sensor set with levels where you want them, and buy a single unit at a killer price, and get it right away?
Stop designing yourself into custom corners. Spec in one of these stock liquid level sensor sets and ensure your liquid sensor application is supported with reparability in the field and long term product support by us.
New Series 10 single point liquid level sensor sets offer more convenient solutions to many common OEM issues. Using the ubiquitous 10-782 liquid level sensor as the primary sensing element, many of these single point liquid level sensor  configurations are only available from ERECTA SWITCH. These ingenious designs solve a broad variety issues. New ultra affordable side mounted level sensors, turbulence fighting shielded units, specialty mounting hardware (including 1/8NPT, 1/4NPT, 1/2NPT, 3/4NPT, 1-1/4NPT, 2"NPT flange and pop-in), and built in wiring enclosure make this the broadest line of single point corrosion resistant liquid level sensors available.
New Series 10 extended stem and multi-level sensor sets are a breakthrough for OEM applications requiring custom switching depths or differential liquid level sensing. These sets are an excellent alternative to custom fabricated single or multi-level units from one of our "Old School" competitors.
These low cost, ready to ship sets, are repairable in the field, allow you to standardize your mounting options with custom switching levels, in any quantity. And check out our killer pricing.